Traditional Form Instructions Sheet
---
Click the signs for more info

Songahm 1 - White
The seed has been planted. Pure and without knowledge of Songahm Taekwondo.
---

Songahm 2 - Orange
Only the beauty of the sunrise is seen, rather than its immense power
---

Songahm 3 - Yellow
The seed is beginning to see the sunlight.
---

Songahm 4 - Camo
The sapling is hidden amongst the taller pines and must now fight its way upwards.
---

Songahm 5 - Green
The pine tree is beginning to develop and grow in strength.
---

In Wha 1 - Purple
Coming to the mountain. The tree is in mid-growth and now the path becomes steep.
---

In Wha 2 - Blue
The tree reaches for the sky towards new heights.
---


Chung Jung 1 - Brown
The tree is firmly rooted in the earth.

---

Chung Jung 2 - Red
The sun is setting. The first phase of growth has been accomplished.
---

Shim Jun - 1st Degree Black
A new beginning. Begin planting seeds for the future.
---

Jung Yul - 2nd Degree Black
With your noble character, you will develop a new permanence in your life.
---
---
Uniform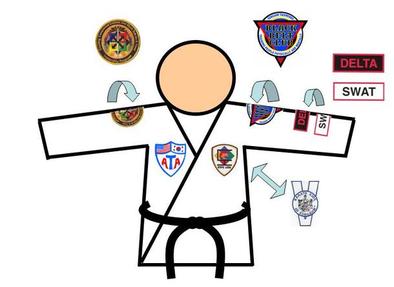 Patch Information



The ATA Shield worn on the right breast of the uniform represetns the students loyalty to the American Taekwondo Association and thier promise to represent the ATA as Black Belt Leader wherever they go.

The School patch worn on the left breast of the uniform represents the students affiliation to a specific school or instructor. Tiny Tigers and Karate Kids will wear a Victory patch in place of a school patch. The Victory patch is used to collect stars that will allow the student to advance to the next patch and ultimately earn their own school padge.

The Black Belt Club patch is given only to students who have been invited into the Black Belt Club Program and continually demonstrate their Black Belt Discipline, this patch is worn on the student's left sleeve.

The Leadership patch can only be worn by students currently in the Leadership Program and is worn opposite of the Black Belt Club patch on the students right sleeve.

The A-team patch is worn on the student's left sleeve below the SWAT patch for those students who recieved strait A's on a report card.

The Delta patch is centered just above the SWAT Patch.

The SWAT patch is worn by students who have been accepted into the SWAT Program it is centered at least 1 1/2 inches below the black belt club patch.
---